A Level Archaeology
If you are interested in how people lived in the past and the monuments they left behind, then Archaeology may be the course for you.
What does the course involve?
You will study people from the earliest times up to the present and the artefacts and other remains from past cultures including Ancient Egypt, Classical Greece and Roman Britain. You will also learn methods of excavation and fieldwork.
AS course
Archaeology of Religion and Ritual
A fascinating introduction to the study of religion and ritual in Archaeology with special focus on Ancient Egypt. You will learn about the gods, temples, rituals and practices involved in daily worship as well as those relating to death, burial and tombs.
Archaeological Skills and Methods
A detailed study of Archaeology, including:
How sites are discovered, excavated and recorded.
Methods of post excavation analysis of organic, metal, ceramic and stone artefacts as well as human and animal remains.
How sites are dated and understood by archaeologists.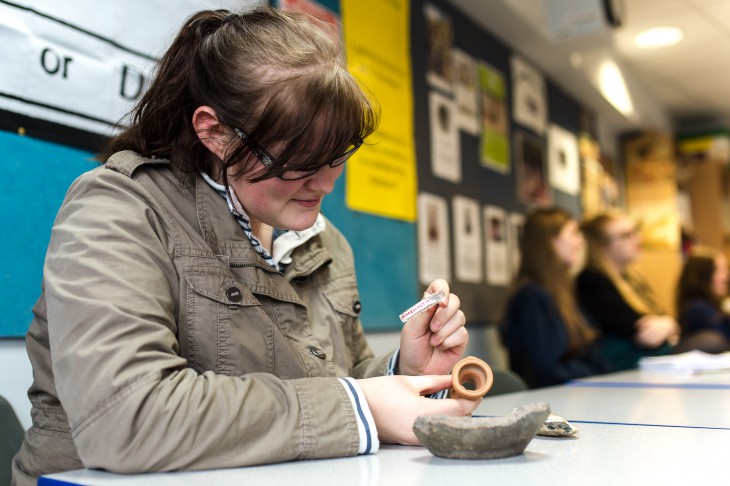 A2 course
World Archaeology
A comprehensive look at various themes in Archaeology including:
How societies were organised in the past.
Understanding economic strategies including foraging, farming, trading and storage.
The development of material cultures and technologies.
Studied with reference to past world cultures, including Stone Age Europe, Bronze Age cultures in the Aegean and Classical Greece and Rome.
Archaeological Investigation
Your chance to conduct your own original research and surface survey of a local archaeological site, monument or structure that interests you. You will produce a 4,000 word report.
Trips
There are field visits to important local and national sites, excavations and museums, including taught sessions at the Ashmolean Museum, Oxford.
A2 students will visit and survey local sites as part of their Archaeological Investigation.
Work experience placements can also be arranged for those who wish to take part in local excavations or museum work.
What can you do after the course?
Students go on to study a wide range of courses at higher education, some of them specialising in Archaeology.
Archaeology related careers include field archaeology, museum work and heritage agencies such as Historic England and CADW.
The course also develops a wide range of transferable skills useful for many professions, including teamwork, communication and evaluation of evidence to judge theories and reach logical conclusions.