BTEC Level 3 Subsidiary Diploma in IT
This course provides you with an opportunity to take a totally fresh look at this exciting subject that permeates so much of the world in which we live.
The Subsidiary Diploma (two years) is a vocational course and is equivalent to one A Level.
In terms of UCAS points for application to university, a distinction at Diploma level will provide 140 points, equal to an A* A Level grade.
What does the course involve?
The course will provide in depth study in a wide range of areas from manipulating digital graphics to building and configuring a computer. The diversity of the course makes it extremely popular, whatever your other subject choices are. It can be studied alongside other A Level courses including A Level Computer Science.
Industry standard software is used on the course.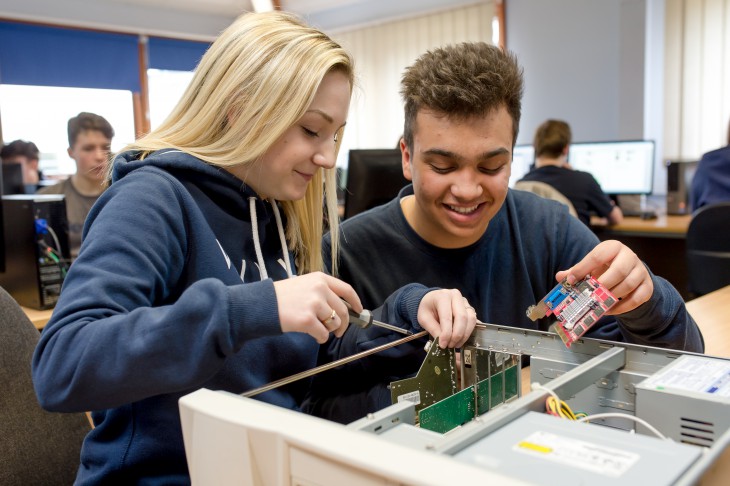 You will develop a variety of skills including:
Website design and development.
Working with digital graphics.
Building and configuring a computer.
Producing financial models for business.
Producing information systems for business.
Presentation and interview skills.
Industry / professional writing skills.
Course units
There are 6 units studied over 2 years, which include a mixture of technical, design and business influenced units.
Year one
Digital Graphics.
Computer Systems (core unit).
Communication and Employability Skills (core unit).
Year two
Spreadsheet Modelling.
Website Production.
Database Design.
Trips
An optional trip to EGX, the UK's biggest games event, provides opportunities to play new games, hear from leading developers and get careers advice from the games industry.
There are visits to university Computer Science departments during the course; recently we have been to Oxford and Birmingham.
Past trips have included the National Museum of Computing at Bletchley Park and the Science Museum in London.
What can you do after the course?
This course offers progression onto a wide range of degree courses, apprenticeships and careers, including network technician, programmer, web developer, systems analyst, digital media, information systems, network support, business, accountancy, teaching, advertising, and TV and film production.
Megan talks about Information Technology at Hereford Sixth Form College