BTEC Level 3 Extended Diploma in Sport & Exercise Science
This BTEC qualification is equivalent to 3 A Levels and it can be used to access higher education programmes. It is a global study of physical education, sport and recreation and is a combination of theory and practical work.
If your GCSE profile is strong you can combine this course with an additional A Level subject.
An example of a BTEC Sport timetable with football academy
I chose Hereford Sixth Form College as I could combine my studies with the Basketball Academy. The facilities and coaching at the College provided vital resources and knowledge to improve my skills. The BTEC course opened new pathways, providing a brighter future for me in sport.
What does the course involve?
This is a full time course which expects you to be fully committed to the study of sport. You will gain an exceptional understanding of sport and its related disciplines.
The course is based on continuous assessment and you will complete assignments for each course unit. The marks for these will make up your final grade. You must be prepared to work hard, continuously, throughout the two years.
You will become a more organised individual through the high level of self discipline needed to meet the stringent assignment deadlines.
You will also develop your questioning and research skills.
Due to the complex nature of the course you will be supported through a dedicated tutorial system which is designed to maximise your chances of achieving your target grade and chosen progression route.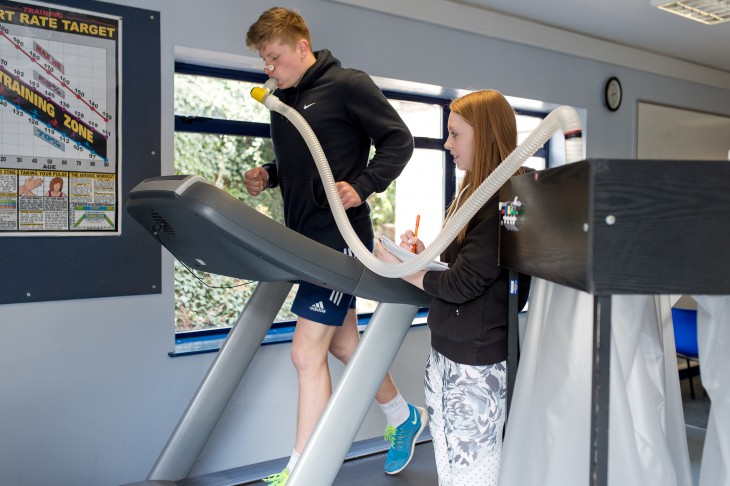 My course was good for me. I wasn't good at examinations but was always quite good at researching and writing lengthy papers.
Trips
Field trips are arranged as part of the course.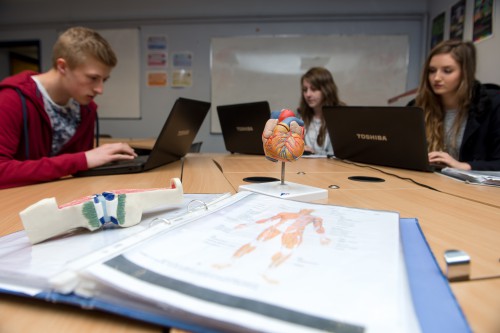 What can you do after the course?
This qualification is primarily aimed at those students who wish to follow a career in sport or sport related disciplines.
It has wide currency and students can expect to gain competitive, first choice offers from the major higher education establishments. A high percentage of students currently achieve top grades and maximum UCAS points.
It is also highly regarded by employers, and possible future careers include all sport related jobs such as coaching and sports development, teaching and coaching, physiotherapy and sports therapy, as well as the armed forces, the police and the fire service.
Doing the BTEC Sport & Exercise Science course has really been a great stepping stone. The assignments and self directed study have helped set me up for making the next step to university.
Will talks about BTEC Sport & Exercise Science at Hereford Sixth Form College
I would just like to say a massive thank you to all of the PE staff. I am now a month into University and I cannot believe how much the BTEC course is helping me. Especially in research methods - I feel as though I am at a massive advantage because most people here have never done it before.
Becky talks about BTEC Sport and Exercise Science
Want to know more?
These factsheets provide lots more information about BTECs in general and about the Sport courses.