Student Travel
Travelling by bus or train
All students who live more than three miles from the College are eligible to apply for a bus or train pass through Herefordshire Council.
Applying for a travel pass
The Council requires a parental contribution.
During the academic year 2016-17 this is:
£270 for the autumn term.
£270 for the spring term.
£210 for the summer term.
Students may find that, if they travel on certain routes to College, the cost could be lower than paying the above parental contribution.
Herefordshire Council Post 16 application for travel form
Train routes to Hereford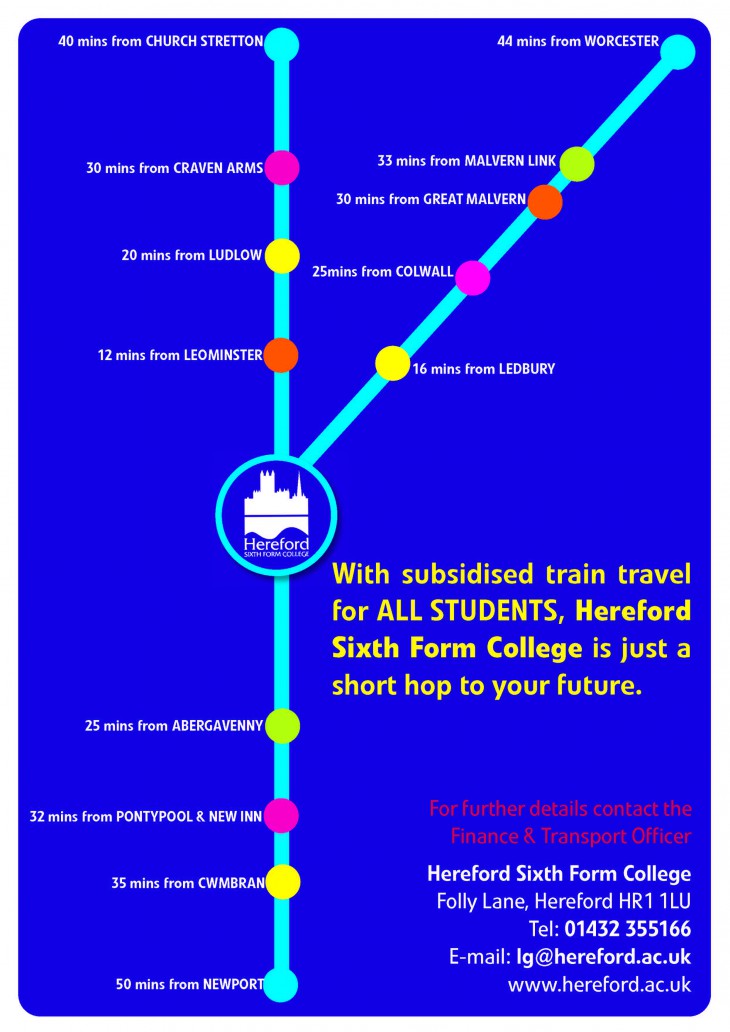 Train routes
If you have any queries, please contact
Hereford Council on 01432 260924.
Lyn Gage, the Transport Officer at Hereford Sixth Form College on 01432 355166.
Bursary fund
Depending upon household income and personal circumstances, you maybe be eligible to apply to the College's Bursary Fund for support with travel and other costs relating to your studies.
Please contact Rhuna Young, the Student Finance Officer at the College.
Travelling by car
Due to the limited space for parking, students must have permission to bring their cars onto the campus.
Many of the roads around College have restricted or limited parking.
Parking is available in the Aylestone Park car park on Aylestone Hill (coming towards Hereford from the Worcester side). Students must obtain a permit from College reception which should be displayed on the dashboard.
Mopeds and Scooters
Students are allowed to park their mopeds and scooters on the campus.
Cycling
Students are encouraged to cycle to College and cycle racks are available.
For directions to College see How to Find Us.